"Secure, Robust, Smart Cashless payment terminals for parking, charging and more"
Experience the future of parking excellence with DataCorp! Elevate your parking operations with our cutting-edge solutions. From seamless payment terminals to advanced ANPR systems, we're your trusted partner for hassle-free parking perfection.
Pay & Display Parking
ANPR Integrated Payments
Pay-by-Plate Parking
Pay-by-Space Parking
Transport Ticketing Solutions
Barrier Controlled Payments
Payment Terminals
DataCorp offers various types of payment terminals, including those that accept cash, cards, contactless payments, chip and PIN, and QR/barcode payments. These terminals are commonly used in parking facilities to facilitate secure and convenient payments.
ANPR (Automatic Number Plate Recognition) Systems
DataCorp provides ANPR systems that capture and recognize vehicle license plates, allowing for efficient entry and exit management, as well as enforcement of parking rules.
Pay-by-Phone Services
DataCorp offers mobile app-based payment solutions, allowing drivers to pay for parking using their smartphones. This includes features like remote payment, reservation options, and notifications.
Management Software
DataCorp provides software solutions to manage parking facilities efficiently. This software includes features such as real-time monitoring, reporting, and integration with existing systems.
Barrier Systems
DataCorp offer barrier systems to control vehicle access to parking areas, ensuring only authorized vehicles can enter or exit.
Ticketing Solutions
DataCorp provide ticketing solutions, including ticket dispensers and validation systems for various parking applications.
Consulting and Support Services
In addition to hardware and software solutions, DataCorp offer consulting services and customer support to help clients optimize their parking operations.
Smart Features For Smart Cities
The device accepts contactless and mobile payment systems like Apple and Google Pay
The HD touchscreen enables additional revenue opportunities
Integrates with our QR Payment application for parking and charging.
DataCorp's parking terminal offers cutting-edge features for your parking needs. With advanced 5G connectivity and integrated payment solutions, it ensures seamless communication and hassle-free payments. Plus, our robust security means no more coin vaults or printed tickets – just secure e-tickets and encrypted communication for peace of mind. Elevate your parking experience with DataCorp.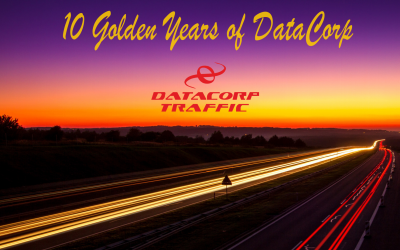 DataCorp Traffic is overjoyed to announce the completion of 10 years of successful business and we are now officially stepping into our second...